You can take out YEL insurance through your UKKO account or directly from the pension insurance company of your choice. The insurance taken out through UKKO.fi is established in the pension insurance company Varma.

Take out insurance through the YEL status of your UKKO account by filling out a YEL insurance application. There are a few questions in your insurance application, such as whether you are on old-age pension and have paid YEL insurance before. Taking YEL insurance with an old-age pension is voluntary, and previously paid YEL contributions affect the new entrepreneur's discount when determining the YEL percentage.

After that, estimate the earnings estimate for yourself (min. 8 575,45 € - max. 194 750 € ). YEL insurance payments are based on the monetary value of your work input, i.e., income estimation. As an entrepreneur, you define your income estimation yourself and the pension insurance company confirms it. Your insurance payments, pension and level of social security are determined by your income estimation
Income estimation is always defined on an annual basis. However, this does not mean a calendar year, but a period of 12 months from the time your insurance obligation is fulfilled. Read more about the income estimation here.

Also mark the start date of your YEL insurance. YEL insurance starts from the moment your gross income exceeds 715 € per month.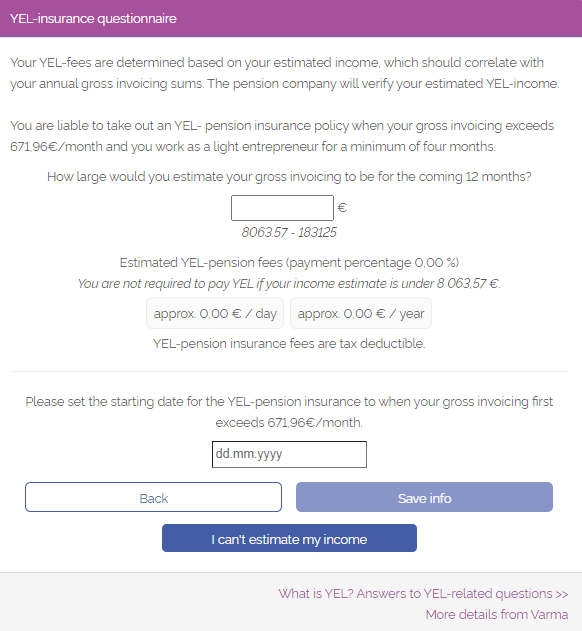 When you sign the power of attorney, your insurance application will be processed by Varma. The insurance will also turn on in your UKKO account so that we will start deducting money from your salaries to your own YEL account pending the next YEL invoice.
Once your insurance application has been processed, Varma will send the insurance certificate to your home address.
We pay the YEL invoices sent by Varma twice a year, in May and November with money withheld from salaries. If we are unable to pay the full invoice received, we will forward the final invoice to your email in early June and December with Varma's payment details.
Read more