With income calculator you can easily get an estimate of your pay.
When pricing your services, you should keep in mind that the amount you invoice is not the amount you'll receive to your bank account. You can read more about light entrepreneurs side costs from here.
Make sure you include the service fee, value added tax, social security fee (if needed), UKKO Assurance, withholding tax and YEL insurance payments in your pricing. Income calculator will help you with this.
UKKO.fi income calculator
You can find the income calculator by clicking here.

There are three things the calculator can help you with:
How much do I have to invoice to get a specific gross salary
How much do I have to invoice to get a specific salary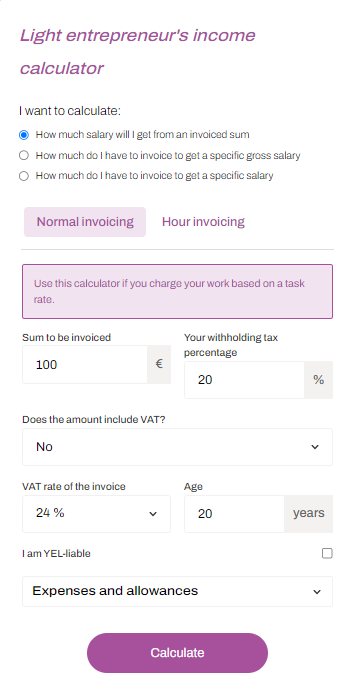 Your withholding tax and VAT will both affect the final amount given to you by the salary calculator. Please keep in mind, that the amount will only be an estimate. Your age, as well as your profession may have an effect on the final amount. Once you have registered, you have access to the correct calculations.